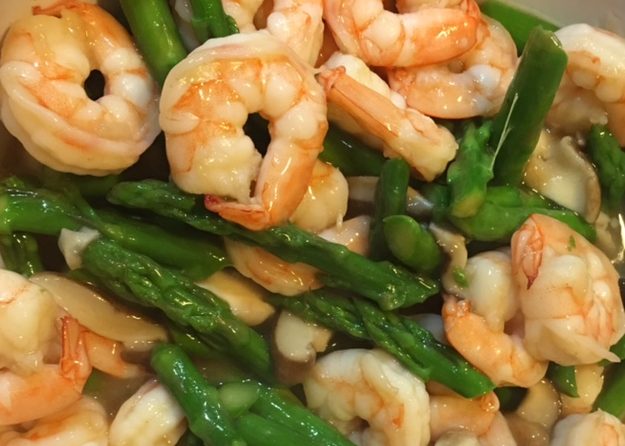 Shrimp with Asparagus
Hi Everyone!! Welcome to my new and improved Chef Katie Chin blog! I'm sorry for the delay in posting new recipes but if you follow me on social media you know I've up to my eyeballs in lo mein flying all over the country promoting my new cookbook, "Everyday Chinese Cookbook: 101 Delicious Recipes from My Mother's Kitchen!"  as well as putting the finishing touches on my new website.  Please check out some new features like my first on-line store!  Here, you will find all sorts of tools, gadgets and appliances that I recommend for you keep on hand to cook Asian food anytime. Here is an easy and delicious recipe for Shrimp with Asparagus I made for a well-known TV host who loves to keep things light and healthy. She just loved it and it couldn't be easier to make. I adapted the Fragrant Shrimp with Vegetables recipe from my new book and simply used Asparagus instead of mixed veggies to make this Shrimp with Asparagus dish.
Ingredients
10 oz shelled and deveined large-sized raw shrimp
1 tablespoon water
2 teaspoons all-purpose cornstarch, divided
Dash of white pepper
¼ teaspoon dark sesame oil
10 oz asparagus, ends trimmed and cut in 2-inch pieces on a diagonal
1 tablespoon oyster sauce
2 tablespoons oil, divided
1 garlic clove, minced
1 small white onion, thinly sliced
4 tablespoons Basic Chicken Stock (page ) or store-bought
1/4 teaspoon salt
Instructions
In a medium bowl, toss the shrimp with 1 teaspoon all-purpose cornstarch, pepper and sesame oil. Cover and refrigerate for 30 minutes.
In a small bowl, mix 1 tablespoon water, the remaining 1 tablespoon all-purpose cornstarch and the oyster sauce. Set aside.
Heat ½ the oil in a wok or skillet over medium-high heat. Add the garlic and shrimp and stir-fry for 2 minutes, or until the shrimp turn pink. Remove from the wok or skillet and set aside. Wash and thoroughly dry the wok or skillet.
Heat the remaining oil in the wok or skillet over high heat. Add the garlic and onion and stir-fry until fragrant, about 1 minute. Add the asparagus and cook for 1 minute. Add the chicken stock and heat to boiling. Cover and cook for 1 minute. Stir in the all-purpose cornstarch mixture and cook until thickened, about 1 minute. Add the ¼ teaspoon salt and stir-fry for 1 minute. Add the reserved shrimp and cook and stir for 1 minute, until the shrimp are hot. Dish out and serve immediately with hot steaming rice.
https://www.chefkatiechin.com/shrimp-with-asparagus/